The Front Porch Blog
---
Tim McGraw Opens Up About 'The Blind Side'
Jessica Phillips | November 30, 2009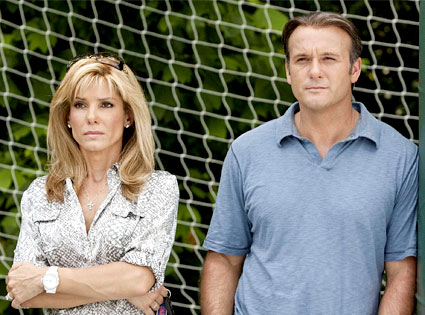 Tim McGraw certainly had a lot to be thankful for on Thanksgiving. Besides a solid career as one of country music's brightest stars, 10+ years of marriage to Faith Hill, and three daughters, McGraw was probably celebrating the success of his latest movie, The Blind Side, earned an estimated $57.5 million in just five days.
While yes, it is another football movie where he plays the role of a father (albeit, a much more stable and kind father than that of an abusive, alcoholic father in Friday Night Lights), but McGraw says he found more reasons than not to take on the role. "I didn't think I would be interested, and I read it and it stuck with me. I knew Sandra was going to do it and John Lee Hancock was going to direct and all the reasons to do it started adding up and the reasons not to do it didn't make sense anymore."
While McGraw's character, suburbanite father Sean Tuohy, does not quite require the emotional range of his character in Friday Night Lights, McGraw says it was no less difficult to play the role. "In a lot of ways, that kind of role is easier to play than Sean in this movie, because in this movie, there's not a lot of arc. He's got to be the steady anchor that the family tethers itself to throughout the whole movie, putting forth this silent strong guy that holds the family together and not be overshadowed."
McGraw says he wants the movie to be an inspiration to young people, and for them to gain determination from Michael Oher's story. "Michael started from a scary enough place. It was a miracle that he survived, but in a lot of ways, being thrown into the Tuohy family situation and the private-school situation was a lot scarier for him than where he came from. It would have been easy for him to say "I can't deal with this new world," and go back to what he knew."