Blue Highway Celebrates Fifteen Years
Jessica Phillips | November 5, 2009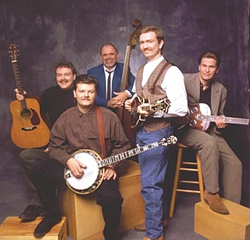 No matter what style of music a band performs, it is rare for a band to stay together for 15 years. In certain tight-knit music communities, such as Christian and bluegrass, where everyone seems to have played in everyone else's band at one time or another, this feat is even more exceptional.
Celebrating 15 years together this year, Blue Highway further defies the odds by keeping all the same members with which they started.
Tim Stafford, Rob Ickes, Shawn Lane, Wayne Taylor, and Jason Burleson have overcome some great odds, and the payoff has been big. Rob Ickes received the 2009 IBMA Award for Dobro Player of the Year, while the band was nominated for the Entertainer of the Year Award. The band won Song of the Year in 2008.
The band is celebrating with an anniversary album, Some Day: Fifteenth Anniversary Collection, which will be in stores on January 19th, as well as with an anniversary show on December 18th in Roanoke, VA.


Comments? E-mail thefrontporch@countrystandardtime.com