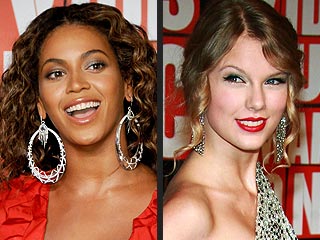 credit: Gregg DeGuire
Taylor Swift's fans were not the only ones left in a Twitter after Kanye West rudely stole Swift's shining moment for winning Best Female Video for "You Belong With Me" last night at the MTV Video Music Awards. West took the microphone from her mid-speech and began ranting that Beyonce should have won the award. Swift was the only starlet representing country music for the award, and she won over fellow nominees Beyonce, Pink, Katy Perry, Lady Gaga, and Kelly Clarkson. Classy Beyonce graciously gave Swift her well-deserved moment in the spotlight later in the evening by asking Swift to come onstage and give her acceptance speech, uninterrupted.
"It was so wonderful and gracious of her," Swift said later. "She's always been a great person and I thought I couldn't love Beyonce more and tonight happened and it was just wonderful."
The country music community came out swinging after the Swift/West incident, twittering their feelings about what happened. Kayne wouldn't have lasted long if he had made those comments at the CMT Awards, ACMs, or CMAs. Here are some of their reactions:
John Rich: "KanyeWest is a lowlife. He needs to have his @@@ kicked in the middle of the stage right now! What a piece of @@@@!!! Go TAYLOR SWIFT."
Justin Moore: "I'd like to kick the sh%@ out of Kayne West."
Blake Shelton: "Sorry y'all but we're just a little bit protective of Taylor Swift around here!! Hey Kanye.. By around here, I mean the world!! Moron...."
Kellie pickler: "I apologize for my language. I'm just f-ing pissed. Tator Tot, you handled yourself with Grace. Kanye, go grow some f-ing balls bitch! don't mess w/my lil sis!!********************************"
Gloriana: "@taylorswift13 congratulations sweetheart! Keep ur head up. We love u!"
Jewel: "You can't steal Taylor Swift's thunder. He only made himself look like an a**"
Lady Antebellum's Hillary Scott: "I wish people knew when to keep their mouth shut! Love you T!!" - Lady Antebellum's Hillary Scott
The other nominees for the "Best Female Video" had their own thoughts:
Pink: "My heart goes out to Taylor Swift. She is a sweet and talented girl and deserved her moment. She should know we all love her."
Katy Perry: "F-- YOU KANYE. IT'S LIKE YOU STEPPED ON A KITTEN."
I think another hit song for Taylor Swift could be in the making after this incident. Congratulations to Beyonce and Taylor for having such class.